JOHN McLUSKY –  1923- 2006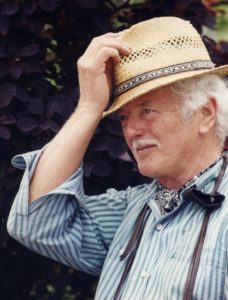 This is not meant to be an obituary, nor is it a biog… Just a series of memories and thoughts about this fella!
I have also added some pages showing his incredible artwork and amazing skill. He brought this character to life in the 1950's as the original artist for the Daily Express James Bond Strip Cartoon Series. Ian Fleming chose Dad to be the artist as he liked his style and went with it. Lucky for Dad and also very lucky for Fleming too!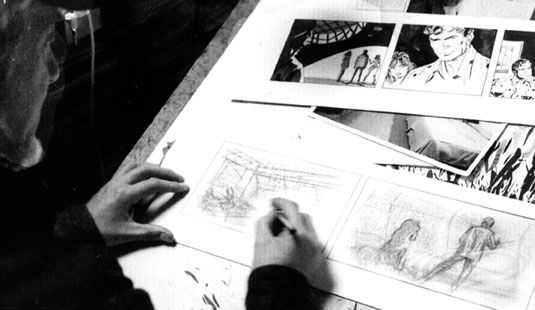 EYE FOR DETAIL
Dad was an amazing chap, so talented and gifted. He was always an artist, from a very young age. He studied art at The Slade School of Art and passed everything with flying colours! He had an incredible eye for detail and could realise that on paper and with seeming ease. He was also a painter and produced some wonderful canvasses. Several of his paintings we still have and they adorn the walls in family homes.
He always wanted to return to painting but as that was not commercially viable and he stuck to graphic art and cartooning which paid for the family and the home.
LONDON
My Brother Sean and I were brought up with Bond and enjoyed the benefits which it brought. Later when the Films began being made, a lovely friend of my parents, Freda Pearson, took the job as Set Dresser on the Connery & Moore films. When each film was over, the props and sets were disposed of and we used to purchase various items and use them around the house. For example, some of the actual poolside furniture from Goldfinger became our patio Furniture!
Sheila, our Mother, married Dad in the early 50's whilst carving out a career in the film industry as costume designer (Capt. Horatio Hornblower, Treasure Island, It started in Paradise) and when Sean & I came along, we all lived in London at the top of the Earls Court Rd in a lovely mews of artists studios, converted to apartments. When I was 4yrs we moved to Datchworth in Hertfordshire and were brought up there in wonderful country surroundings. This was due to a chance meeting with an aspiring young architect and his interior designer wife, whom Dad met on a skiing trip to Austria. The architect, Martin Priestman and Jane, his wife, discovered a derilict row of old cottages in an overgrown garden down a lane in the village of Datchworth. Between Dad, my Mother and the Priestmans, they redeveloped the cottages into a very "des-res" in the rolling coutryside in 1959, just after Dad started the Bond strips.
SKIING IN AUSTRIA
Above, are three photos of Dad and two friends on a ski trip to Austria. Basil Appleby, film producer, a family friend and London neighbour (Anne Appleby, his wife, Lucy & Suky, daughters. My brother and I grew up with them and remained firm friends) – & a chap called Leslie Linder, who was Sean Connery's Agent! (I think this was before the first bond film, not too sure)
OUR TIME IN HERTFORDSHIRE
Dad had an artist's studio built at the far end of the garden, so that he could work on the Bond Strip and other work he was undertaking at the time. I remember as a child, visiting him in the studio. He was always busy but never seemed to mind the visit occasionally. I found it all rather fascinating and mysterious. The studio eventually became his home when he and mum parted company and he lived there for many happy years, working, teaching at the local college and private schools. In his later years he rekindled his love of the Punch and Judy Show and became a Professor, giving shows at Filey and local events. He loved life and loved people.
THEATRE COMPANY
My parents ran a Theatre Company called The Elizabethans, producing Elizabethan era farcical "Jiggs" and court entertainments, plus a splendid and spectacular mediaeval morality play "Rex Vivus". All these were performed along with music and dance of the times in Country Houses and Cathedrals around the UK. (When I have time I will put up a web site all about this). Dad was very much part of this company and acted many roles, serious and comical. He was very dedicated to the cause!
After Bond, Dad continued drawing comic strips for children's comics; TV Comic, Look and Learn, June, Ladybird. He also drew big static cartoons for Children's TV like "Hattytown" and "George The Dragon" His pen constantly conjouring up wonderful imagery and colour!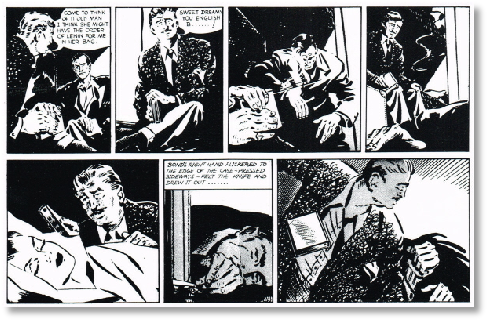 This is the Book Gun Sequence from From Russia With Love. It was illustrated by John for approval by Fleming. The approval was indeed granted! The face on the first advertising poster was taken from this trial drawing and blown up to massive proportions!
WARTIME & JOHN McLUSKY
Dad was just in his last year at the Slade Art School in the 30's when war broke out. He was called for duties as one of the Backroom Boys in Bomber Command, to provide his skills as an artist, drawing meticulous schematics and cutaways of a huge range of aircraft. These were used as training posters and manuals for air and ground crews. He was part of the Sunderland Flying Boat innovation, the TAT Trainer and many other quite amazing parts of the war machine.
Here is Dad just after the war taking part in a Cabaret to celebrate VE Day. Dad is in the middle, Horace Faithful, colleague, to the left of the picture and the chap to the right, another wartime colleague. (Can't read the signature)
More on this, on another page (when I have set it up!)