"When the word talent is applied to the man whose work is showcased on this website, the word is indeed being used at the zenith of its meaning."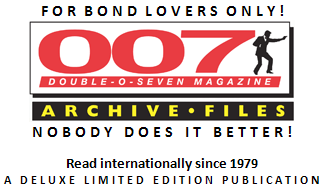 "John McLusky's strip cartoon work on the Daily Express James Bond stories developed over the years into a masterful technique of storytelling. From Ian Fleming's adapted dialogue and a scant description of events in the most meagre of scripts imaginable, John conjured up detail and atmosphere that can only come from the mind of a truly creative individual – an artist.
His illustrations for ON HER MAJESTY'S SECRET SERVICE and YOU ONLY LIVE TWICE can be considered his finest work on the series, exactly capturing the spirit and essence of Ian Fleming's enigmatic fictional character and the world in which he moved.
In 1964, I always eagerly anticipated the early morning arrival of the Daily Express newspaper through the letterbox, and would turn straight to the page on which John's strip appeared, starting the day off with a burst of visual excitement for this 13-year-old schoolboy. John's work still has the same effect on me over four decades later.
Original examples of John's James Bond strip cartoon artwork take pride of place on the walls in my 007 MAGAZINE office, where never a day goes by when I don't look at them and still marvel at his ability to conjure so much mood and texture with pen and ink. Owning a piece of this particular part of Bond history has always been very important to me, as it should be to anyone who has a love of Ian Fleming's original James Bond novels."
Graham Rye
Editor & Publisher
007 MAGAZINE
HERE IS THE 007 MAGAZINE ALL ABOUT THE ILLUSTRATED BOND
These images are copyrighted and belong to Graham Rye, 007 Magazine
More info soon…